The world famous Val d'Isère ski resort has been making good use of Airstar lighting solutions since 2011 for its Airstar Night Light. Every Thursday night in the city centre from December 31 – March 3, Val d'Isère Tourisme and an Airstar dedicated team deploy dozens of balloons that light up various animations, such as ice sculptures, concerts and musical performances.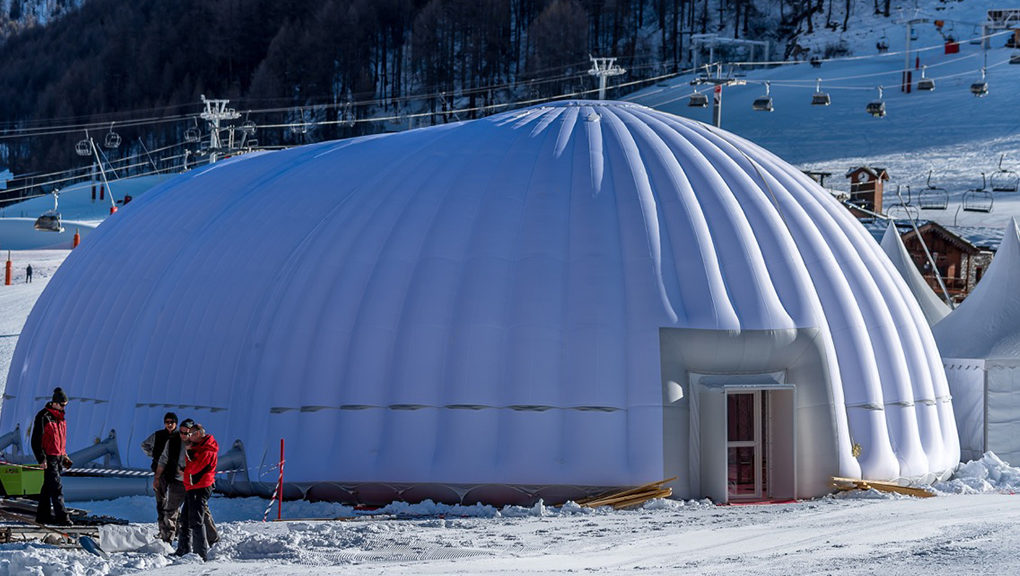 Just before this sought after event kicks off, the Club des Sports de Val d'Isère organises its own event, the Critérium de la Première Neige (11 – 13 December), a yearly competition that sees the world's best skiers compete for the Audi FIS Ski World Cup.
In order to mark the 60th anniversary of the event, the Club des Sports was looking for a 'Reception' structure which would be the 'go to' area for spectators to rally the bottom of the Giant Slalom and Alpine Combined races. Vincent Jay, Director of the Club des Sports and former Biathlon Olympic champion, was looking for an aesthetic structure with the highest standards of safety to cater for an average of 400 people.
David Hemesdael, Event and Animation Manager at Val d'Isère Tourisme and organiser of the Airstar Night Light, immediately suggested that Vincent Jay get in touch with Airstar.
Overseeing both the Airstar Night Light and the Critérium was Gautier Vissy, Airstar European Network (AEN) Manager for the Rhône-Alpes region. He recalls: « The Club des Sports wanted this structure to act as a rallying point where people could buy tickets to the race, grab a snack, be entertained and buy souvenirs. Quite naturally, we recommended our brand new dome Dune, which was launched in 2015. »
Dune by Airstar is a revolutionary inflatable and modular structure designed for high-end professional events. Created with corporate parties, shows or temporary showroom applications in mind, Dune redefines ephemeral public spaces by offering an innovative, safe and aesthetic tailor made solution. Compliant with the security norms for structures hosting the general public, Dune offers infinite combinations to create spaces.
It only took a mere five hours for the Airstar team to erect a 34m (L) x 15m (W) x 8m (H) version made up of four elements : two quarter spheres on each side connected by two centre bridges. It was the first time that this new double partition dome had been used in France, hosting 5,000 people each day.
LED bars were fitted between the partitions to light up and animate the structure, while eight 150W Crystal LED lighting balloons (measuring 90, 130, 160 and 200cm in circumference) welcomed visitors outside the main entrance.
A couple of weeks later, Val d'Isère was again in full entertainment swing, with the start of the Airstar Night Light. Over 200m of roads are then transformed into a magically lit pathway.
For this 2016 geometrical-themed edition, Val d'Isère Tourisme chose 17 LED battery powered Towair totems (85 W) measuring between three and five metres in height, three 200cm wide Crystal LED lighting balloons (150 W), as well as three Star shaped balloons (160cm).
In the main square at the heart of the city centre, seven Crystal lighting balloons (measuring between 90 cm and 200 cm), and covered by black sewn fabric called Spires, hung above the DJ animated dancefloor. Finally, at both ends of the visitor wanderings, four self-inflated Tusk Evo were given pride of place.
« Many holidaymakers come back every year, so for us it's absolutely critical to be able to renew the theme from one season to another, and the depth of offering in the Airstar lighting solutions helps us do just that, » concludes David Hemesdael. « We are entirely satisfied with the work and our relationship with Airstar, they are always very reactive and they constantly listen to our needs. »
Established in 1994, Airstar is specialised in the design, manufacturing and distribution of inflatable structures and lighting balloons. An innovation source at the crossroads of lighting, design and technology, Airstar offers a range of products used by event and staging companies, rescue specialists, construction/safety workers in outdoor and underground environments, as well as the film and television industry. As an international company, Airstar is active in 40 countries through 12 subsidiaries and a network of independent distributors. Airstar invented the lighting balloon in 1994 and celebrated 20 years of innovation in 2014.