MultiCAM Systems, french supplier of integrated video production systems serving the broadcast and professional AV markets, introduced its complete range of integrated production systems for corporate, education and other AV verticals at InfoComm 2017 (June 14-16, Orlando, Florida).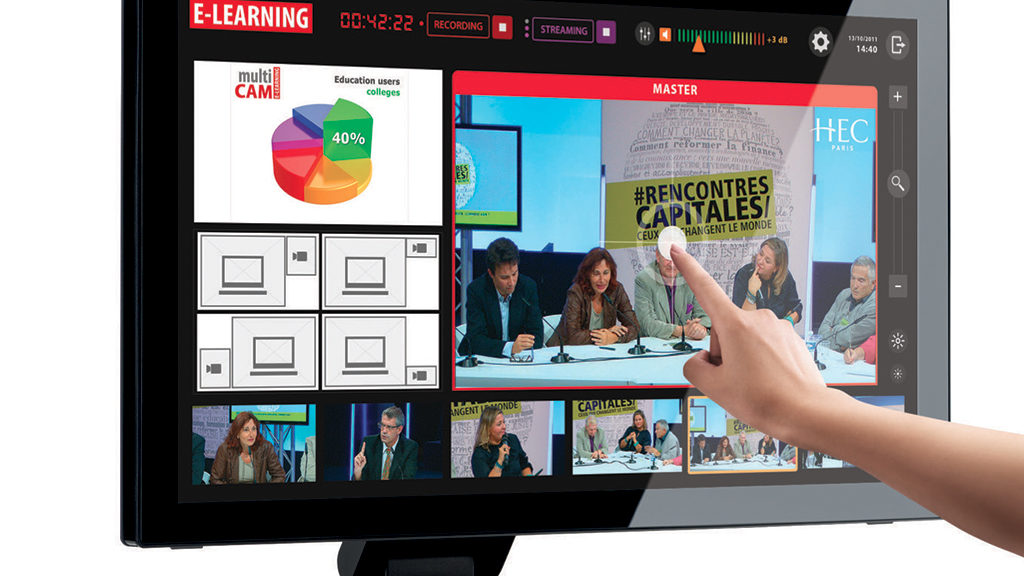 MultiCAM Systems differentiates itself from competitors through a strong reliance on built-in artificial intelligence that can be strengthened or de-emphasized to address the desired level of human intervention across the production workflow. Across that workflow, multiCAM's all-in-one systems—to be shown in North America for the first time—bring together advanced video switching, PTZ camera control, storage and recording, and content delivery across live streams and podcasts.
Unlike competing systems, multiCAM Systems' integrated production platforms add a slide detection module to automatically detects when a presenter or speaker should switch between PowerPoint and video content. This innovation provides value far beyond systems that simply monitor the speaker and ignore the content.
"MultiCAM System's approach to live production in AV gives end users the power to automate productions and content management to the desired level, based on considerations around staff, venue and existing technical infrastructure," said Stan Walbert, CEO, multiCAM Systems. "InfoComm is the ideal venue to showcase the versatility and ease of use of our three flagship systems to end users and systems integrators."
Automation Options
MultiCAM Systems offers two systems, Multicam e-Learning and Multicam Tracking, to simplify the acquisition, recording and streaming of live and recorded content to Moodle, Blackboard, YouTube, Facebookand other popular video platforms. Both systems provide all-in-one solutions to produce lectures, online training sessions, keynotes, conferences, and other live presentations and events – with the flexibility to manage the balance across AI and manual production.
The semi-automated Multicam e-Learning allows a single user to easily manage all video capture, camera switching, video recording, composition and streaming tasks from a central touchscreen interface. Users can quickly identify and switch between many camera angles, with automatic video insertion in alignment with camera movements. With minimal human intervention required, operators remain focused on editorial content associated with a presentation or course—without being overwhelmed by highly technical production workflows.
The fully automated Multicam Tracking incorporates an Artificial Intelligence-equipped software engine that detects a speaker's position, anticipates movements, and correlates these events with production decisions. The information collected within the system is relayed to the cameras, which select the most suitable views. Multicam Tracking's open-platform enables connectivity and compliance with all modern PTZ cameras, instead of locking customers into specific brands and models. This system also eliminates the costs of hiring a full production crew to man cameras or physically control PTZ systems.
Richer Content
A third system, Multicam Conf, provides a fully automated video capture and broadcast system that cleanly integrates with leading audio conference systems; and provides rich support for dynamic graphics. Highly scalable, the system is ideal for the smallest meeting rooms to the largest auditoriums.
Multicam Conf's built-in AI engine defines various shot angles for each microphone used in the production, and communicates with audio conferencing systems from Bosch, Taiden and Televic to provide additional information about the speaker. Through the AI engine, an automated video mixing application selects the right camera presets according to who is speaking or presenting. Its advanced video tracking algorithm leverages facial recognition, with automatic adjustment of frames as speakers move around or change posture.
The system integrates a special Titler module to support automatic graphics overlay (including logos, speaker titles and session information), allowing operators to create dynamic visual scenes that correspond to specific scenarios. Like e-Learning and Tracking, Multicam Conf also allows operators to live stream or podcast presentations, with no programming or scripting required.
Founded in 2010, multiCAM Systems designs easy-to-use live video production systems, which featured advanced video switching capabilities and PTZ camera technologies for applications such as recording, live streaming and podcasting. Focusing on the broadcast and e-learning markets, multiCAM Systems offers a wide range of products. These include Multicam Tracking, an entirely automated video recording tool particularly suited for e-learning and conferencing purposes; Multicam Studio, an all-in-one system for live video production; and Multicam Radio, an automated visual radio studio that allows broadcasters to air programs live 24/7.