La Plateforme Online Meetings Events de mise en relation des professionnels grâce à une IA va permettre d'organiser instantanément des rendez-vous en visioconférence cryptées pour convertir les productions industrielles pour la région Grand Est...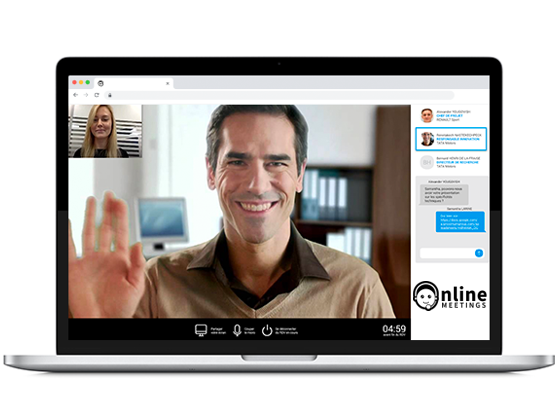 Proximum a lancé en mars la plateforme Online Meetings qui permet de mettre en relation les professionnels grâce à une I.A. et d'organiser instantanément des rendez-vous BtoB en visioconférences cryptées pour poursuivre les activités économiques pendant la crise.
Online Meetings Events est une technologie qui regroupe en un clic sur la même plateforme :
Mise en relation entre des décideurs qui ne se connaissent pas via une I.A. de matchmaking en vue de planification de rendez-vous ciblés One to One via un catalogue prédictif en visoconférence
Proposition de conférences avec interactions, partage de plans documents techniques.
Organisation de challenges
Organisation d'agenda à la carte optimisée via notre algorithme de tous les participants intégrant les rendez-vous doublement validés, challenges et conférences choisies
Tout est effectué en vidéo-conférences cryptées au travers d'un planning de rendez-vous affichant les rooms les unes après les autres dotées d'un timer chat ; partage d'écran etc. …
Après avoir géré avec succès la plateforme d'urgence de coordination Néo-aquitaine, Proximum met en place la Plateforme de La Région Grand Est.
Cette Plateforme met à disposition des entreprises régionales industrielles, artisanales, du commerce et de la logistique un algorithme de mise en relation avec des experts et autres industriels complémentaires pour trouver de manière express les briques manquantes leur permettant de convertir leur ligne de production à la fabrication de matériels et équipements remontés par les professionnels de santé qui qualifient de leur côté la volumétrie et la caractérisation de leurs besoins.
Cette plateforme met en relation les demandeurs de produits et solutions : Professionnels de santé, indépendants, établissements et entreprises avec les fournisseurs de matériels, solutions et produits : entreprises (TPE / PME / ETI et Grands Groupes et les laboratoires mais aussi des logisticiens pour l'approvisionnement des produits en circuit court dès la sortie de la chaine de production.
Renaud Simard CEO de la société déclare : « Après avoir mis en place fin mars une plateforme similaire pour La région Nouvelle-Aquitaine nous avons lancé la plateforme pour la région Grand Est très rapidement. Cette région extrêmement touchée par le COVID-19 avait besoin de pouvoir avoir une plateforme de mise en relations pour tous les professionnels de santé et les entreprises de ce domaine afin d'accroitre ses capacités de production en circuit court. Nous sommes en contact avec d'autres régions actuellement et espérons les aider rapidement. »
Proximum Group s'est initialement spécialisée dans les conventions d'affaires et organise près de 550 000 rendez-vous BtoB par an depuis 21 ans. La société innove en proposant à ses 110 000 clients industriels une alternative d'organisation de plannings de rendez-vous one to one, en vidéo conférence cryptée, via sa plateforme Vimeet, et ainsi permet aux décideurs de s'identifier entre eux, puis de se rencontrer en rendez-vous, sans se déplacer. Les Online Meetings permettent de générer des relations commerciales et technologiques en France et à l'international et deviennent un outil essentiel de développement. Ils permettent d'assurer la continuité des relations entre partenaires, mais également avec les prospects et ce, à moindre coût.